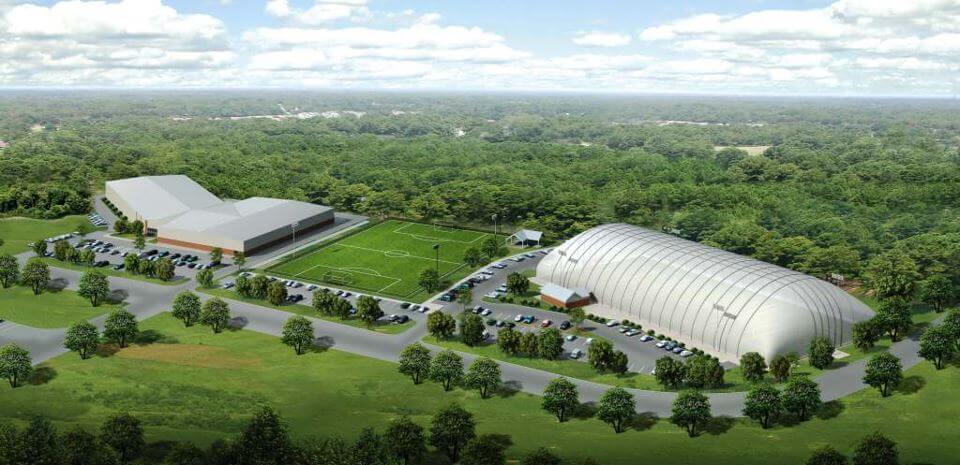 November 29, 2007
Bedford High School varsity hockey practice began earlier this week, as it has for decades on the first Monday after Thanksgiving. Not much new in that – except this marks the start of a new era for the sport, its players, families and fans, and the greater community.
Do you recall that scene in "The Wizard of Oz" when Dorothy emerges from her house and finds that the world has changed from black-and-white to color? That's what's happening on Hartwell Road as hockey players find themselves in their own local Oz – The Edge sports center.
"I've been over there a few times, and I've just been treated really well," said BHS Head Coach Peter Marfione last week. "They're willing to help us as much as they possibly can." Added Chris Aufiero, director of athletics at the high school, "It's going to work out great for the kids." The first home game is scheduled for Dec. 12.
Senior Andy Westerkamp is looking forward to the "health benefits," as he explained: When the team rented out-of-town ice, "we got up at 3:45 to practice at 5, and that really takes a toll on you after awhile. You've got to go to bed early, but sometimes you can't because you have homework. With this new rink we go to practice every day after school at 2:30. And everything's right down the street."
"They used to be on a bus at the high school at 4:20 in the morning," the coach confirmed. "Sometimes they had a game at eight at night. I don't think anybody could expect them to be at their best."
A year ago, there was nothing "down the street" but a wooded lot across from the former Raytheon systems complex. Groundbreaking didn't take place until January. The developers, Brian DeVellis of Bedford and former Olympic hockey star Scott Fusco, said they were aiming for completion by the end of the year. Yeah, dream on.
Except they did it. The plan sailed through the permitting process, a few neighborhood concerns were addressed, and the project surged through the spring and summer. The rink opened early this month, and work on the indoor turf field and fitness center is nearly complete.
"It's going to be a good atmosphere over there for the kids," Marfione asserted. "Youth hockey will grow and hopefully will feed right into the high school." There are bleachers alongside the rink, and "a couple hundred people can sit over there. Hopefully we'll develop a following with the youth hockey. It's going to take a couple of years, but I think the numbers will grow."
His predecessor as coach, Bedford native Mike McGrath, is the facilities manager at The Edge. He expects the high school program to benefit "just in terms of sheer numbers — I think a lot of kids didn't try out to avoid the 5 a.m. practice time." McGrath, who said his new job is a once-in-a-lifetime opportunity, said the return of junior varsity hockey would strengthen the sport as athletes strive to move up the ladder and stay there.
Sophomore Cotter Ellis, the team's goalie, mentioned the discomfort of playing "home" games in the same arena used by archrival Concord-Carlisle. "We had to get the worst times, the worst locker rooms," he related. Now the ice is only five minutes away, and the team has its own room at The Edge. "We can leave our bags there. We don't have to lug them around." Aufiero concurred. "I can't emphasize enough the value of having a locker room – they don't have to drag their stuff around and find a place to store it in school."
Aufiero noted that there will be significant financial savings. Bus transportation to and from Valley Sports Arena in West Concord for practices and games cost $150 per round trip, from the Monday after Thanksgiving to mid-February, he said Between practices and games, there were six trips a week.
Westerkamp, who is president of the BHS Class of 2008, is starting his fourth year on the varsity, including a magical 2005-2006 season when the team dressed only 15 athletes but won most of its games and qualified for post-season play. "I think this is going to be a great spot for all the kids in town," he said. "People are going to start enjoying hockey and going to the games. I've been to the free skate a couple of times and a lot of young kids are going to hang out."
Andy's mother Cissy, who grew up with nine brothers who played hockey, joined in that open community skating earlier this month. "Having a facility like this will not only benefit the kids but the town overall," she testified. "It's going to be an opportunity for families." Cotter, who has been skating since age four, is certain that the new facilities will inspire more interest and involvement.
Aufiero hopes the relationship with The Edge extends to some conditioning programs and the turf fields, which will come in handy for practice sessions on snowy or rainy spring afternoons.
By Mike Rosenberg | Copyright 2007 Bedford Minuteman. Some rights reserved