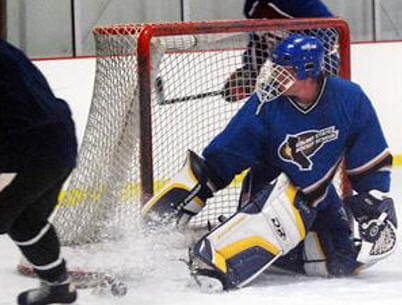 December 4, 2008
The Bedford Boy Scouts Troop 194 held its inaugural Charity Cup Challenge Saturday at The EDGE Sports Center, featuring a hockey game between the Bedford Police, Fire & DPW All-Stars and the Bedford EDGErs.
The final score was 7-4, in favor of the EDGErs but the real winners are Troop 194's charities: The American Legion Post 221, Toys for Local Children, the Bedford Food Pantry and the Bedford High School Fallen Veterans Memorial Fund.
The game, sponsored by The EDGE Sports Center and the East Coast Wizards Hockey program, who donated the use of their facility and the ice time, drew more than 125 spectators who not only took in a spirited hockey game, but also took part in a silent auction of sports memorabilia and holiday gift baskets donated by local merchants and the Bedford Cub Scouts Pack 194.
The day's events kicked off with the JROTC Color Guard presenting the Star Spangled Banner, and Boy Scout Steven DeVellis leading the Pledge of Allegiance, culminated in the awarding of the first annual Charity Cup to the winning team, the Bedford EDGErs.
Proceeds from the event will ensure the continued growth of scouting in Bedford, and will be donated to the American Legion in appreciation of their sponsorship of Bedford Scouting; along with the Bedford High School JROTC program for the BHS Fallen Veterans Memorial Fund – to be used in the creation of an enduring memorial at the High School to all the brave local men and women who have lost their lives in the US Armed Forces. Additionally, the Troop collected boxes of food for the Bedford Food Pantry for local families this holiday season, and TLC.
By Stephen Tobey | Bedford Minuteman