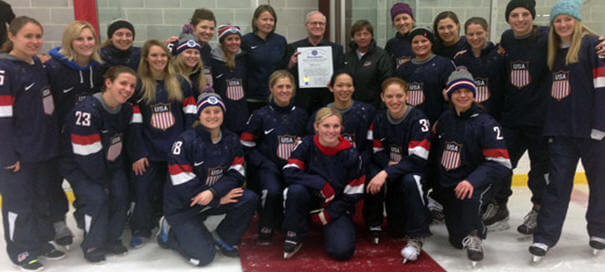 January 30, 2014
Massachusetts State Sen. Mike Barrett (D-Lexington) presents a Senate citation to the US women's Olympic hockey team, which trained at The Edge in Bedford. Courtesy image
On a frigid January evening weeks before the Sochi Olympic Games, State Sen. Mike Barrett praised the US women's national hockey team as "role models" and "leaders."
The team, with a roster of top players from across the country, has made their home in the local area for the past several months. The entire squad has been training at The Edge in Bedford, while many players are staying with Concord families.
Inside The Edge, scores of young girls who play for the East Coast Wizards youth teams circled the ice, taking photos and collecting autographs from their heroes.
Barrett — the local State Senator for Bedford, Concord and surrounding towns — presented the national team with an official Senate citation for their time spent in the area.  Addressing them at center ice, he said, "You represent the very best of amateur athletics.  When you look around today it's clear that so many kids look up to you.  You're role models not only for young girls but young boys as well."
Barrett also praised the local support the team has received, in particular host families, who welcomed women they didn't know into their homes, as a way to make the experience convenient and allow them to feel at home.  "We're behind you all the way."
The team's training over the past several months has included intense workouts, long practices, film study and exhibition games.  But they also found time to visit the cape, go apple picking and explore historic local sites.  They travel to Russia in the coming days to play team Finland on February 8th, puck drop at 3am Eastern Time.