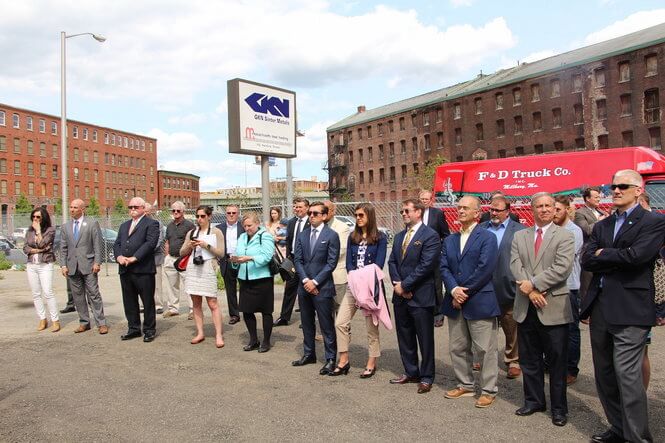 November 10, 2015
WORCESTER — Three years after his plan to have a hockey rink built in the parking lot near the Worcester Public Library failed, Craig L. Blais, president and chief executive of the Worcester Business Development Corporation believes he's found a more suitable location in the Canal District. Mr. Blais said the WBDC has been negotiating for two years with GKN Sinter Metals to acquire the former PresMet Corp. site at Harding and Winter streets, and he expects to complete the purchase with brownfield grants between Thanksgiving and Christmas.
The WBDC would demolish the former powder metal parts manufacturing plant, which has been closed since 2007, clean up the 3.5-acre site by June 1, 2016,and lease it to Edge Sports Group, which would finance, build, own and manage the facility that will house two rinks, a pro shop, eight locker rooms, a restaurant, offices and possibly a physical therapy room. Edge Sports Group's Harry Angevine said the plan is to complete construction by August 2017.
"The goal in building this facility," Mr. Angevine said, "is to provide a much-needed source of ice time, as well as an endeavor to rejuvenate the neighborhood, to bring a lot more foot traffic into the neighborhood."
Edge Sports Group of Providence has broken ground on a hockey facility in Middleton and is negotiating to build one in Devens, Mr. Angevine said. Mr. Angevine's business partner, Brian DeVellis, developed and owns another hockey facility in Bedford.Mr. Blais estimated purchasing the property, demolishing the building and cleaning the site would cost $3 million, and Mr. Angevine said construction would cost another $12-$15 million.
In 2012, a proposal by Mr. Blais and the WBDC to build a hockey facility on the city parking lot outside of the Worcester Public Library was opposed by the library's board of directors and never materialized.Mr. Blais said a WBDC feasibility study found a demand exists for the ice time, and that several local colleges and youth hockey leagues have expressed interest in playing at the proposed facility.
Mr. Angevine said he believes the need exists for four ice rinks, but the site lacks the room.Worcester State University Athletic Director Michael Mudd, former president of the Worcester Sharks American Hockey League team, said WSU "would be very interested in renting ice time for practices and games" for its men's hockey team, and would consider a women's hockey program."I think the project would impact the city in a positive fashion," Mr. Mudd said. "There continues to be a demand for ice time in New England for youth hockey, adult hockey and figure skating."
Mr. Blais said the WBDC conservatively estimates that the facility would attract 50,000 users to the rinks each year. He added that the rinks will operate 18 to 20 hours a day, seven days a week, year round. Multiple-rink facilities attract multiday tournaments, so players and fans often stay at local hotels.
"It's going to bring a lot of people to the area," Mr. Blais said, including "college students, kids, parents, youth organizations, parents dropping off kids for practice and looking for things to do in the Canal District. We think it's going to be a good boon for the area." Mr. Blais, Mr. Angevine, City Manager Edward M. Augustus Jr. and Worcester Regional Chamber of Commerce president and CEO Timothy P. Murray met with Canal District business leaders to assure them that the design of the building would fit in with the architecture of the district."
We're much more on board," Canal District Alliance president Mullen Sawyer. "What was very clear to our group was that they wanted to work with all the businesses in the Canal District to make the facility all that it could be, and that they are looking at a full-year operation. We were afraid that it might be shuttered significantly in summer months, which is our critical time, and the architect committed to a design charrette with all of our businesses. So we're thrilled with the opportunity."
Mr. Murray is a big believer in the project, and because he's played in a men's hockey league at the New England Sports Center in Marlboro the past two years, he knows firsthand about the financial impact such a facility can have."I think it's going to be a real shot in the arm," Mr. Murray said, "in terms of bringing people into the city, spending money and having a unique experience."
"It's great for the neighborhood," said Michael E. Traynor, the city's chief development officer, "to take that abandoned, polluted site, to get it cleaned up and put it into active use. There's definitely a demand for hockey, whether it be at the youth level, the college level and having a home rink for the various Worcester-based organizations and schools, it's great."
The only ice rink currently open to the public in Worcester is the state-owned Buffone Arena on Lake Avenue.
By Bill Doyle | Worcester Telegram & Gazette