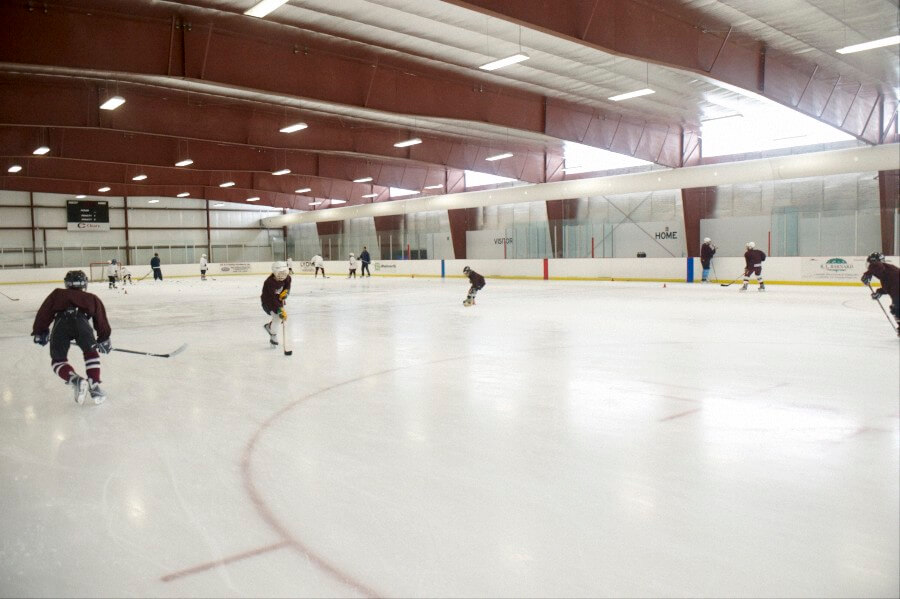 November 7, 2007
Hockey games running from 7 a.m. to 9 p.m. this past weekend were a welcome sight for Brian DeVellis and Scott Fusco, who had become accustomed to the ongoing construction that has allowed The EDGE Sports Center of Bedford to open in time for high school hockey season.
"You know, it's just a big relief to finally get the doors open," said DeVellis. "We had shot for the middle of October, so, given the fact that we were still clearing the site in June, that's pretty good." DeVellis and Fusco, the principle partners for the property, started the permitting process in January, according to Fusco. "So, it was a solid ten months, which is great," he said. "All the town boards were great to work with. They knew we had a tight time frame so they did everything they could to get all the approvals in place," Fusco said. The sports center, located on Hartwell Road, opened its doors this past Saturday to its Learn To Play Hockey program, which was followed by a weekend filled with skating and hockey. "Everything's gone great," said Fusco. "We've gotten positive feedback about the games and ice surface. I was happy with the way things went, and I think the people were, as well.
"I think it's going to be a great deal for the town. For the first time they're putting a middle school hockey team together," he said. Around 26 kids tried out for the team, which is "great for town spirit and to build the high school program," Fusco said. The EDGE will also open two indoor Field Turf fields later this month. "People are dying for the turf fields," said DeVellis. "People are coming in now and requesting birthday times."Fusco envisions the turf fields as a place for community recreation, saying, "Really anything that can be done on grass can be done on the turf." The EDGE has already gotten calls from people interested in Ultimate Frisbee, football and baseball – even from a dog agility club.
Log onto www.theedgesportscenter.com for more information on programs offered.
By Patrick Ball | Bedford Minuteman