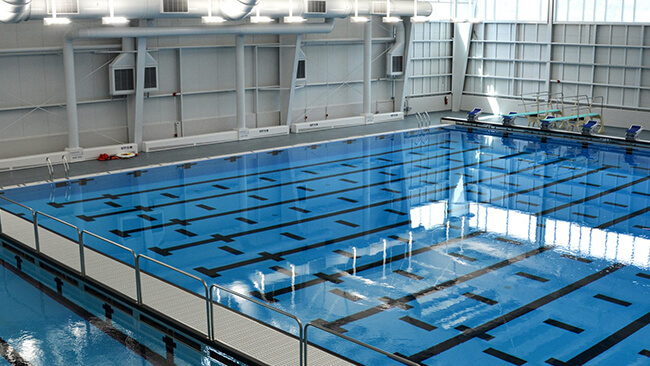 December 12, 2022
Metal Building System Accommodates Different Environments in Boston Sports Institute
Metal buildings are engineered systems that offer construction flexibility, allow for large clear spans and provide diverse building configurations to accommodate sports facilities of varied shapes and sizes. A case in point is the Boston Sports Institute (BSI), a 130,000 square foot multipurpose recreational and entertainment facility located in Wellesley, Mass.
"Special attention had to be given to all sealing details as the building has two very extreme and different environments—ice arenas on one side and pools on the other," said Tony Barnes, President, Barnes Buildings, the steel contractor for the project.
Brian DeVellis, President of ESG Associates Inc. dba Edge Sports Group which developed the project, noted that metal building technology has evolved over the past 15 years to include insulated panel and roof systems. "It's come such a long way, and this has been phenomenal for us," he said.
Embracing Aesthetics
The BSI project incorporated 58,000 square feet of insulated metal panels (IMPs) from Metallic Building Systems in a variety of orientations, colors and designs. The horizontal and vertical strips of gray, white and sandstone panels are aesthetically pleasing and, most importantly, provide an all-in-one, built-in vapor and air barrier plus insulation system.
IMP thermal properties are especially important in maintaining a chilly 55°F inside the facility's two NHL ice rinks and warm 82°F in the pool area.
Up On the Roof
To heat and cool the facility, three dozen HVAC units were installed on the roof. However, for the rooftop in the pool area, all equipment-supported steel and roof curbs had to be precisely installed for the large units. With no tolerance for error, Barnes said coordination with the HVAC manufacturer and subcontractors were essential to ensure curbs were properly located.
BSI has solar panels on its roof, and the facility has a heat exchange system between rinks and pools. Compressors used to create ice also generate heat, which is then pumped to the pools to warm them.
"Routing eight-inch gas lines and heat exchange pipes was a lot easier with a clear span building. You can hang these instead of having to break through walls," DeVellis said. "Maintenance and improvements for these systems are easier to complete because they are all open and easy to access."
In addition, he cited construction durability and ease of design as other benefits of using a metal building system.
"These institutional buildings have to be strong. You have a million kids running through them with hockey sticks and basketballs. We don't have mahogany-and-gold-plated chair rails," he said. "These buildings are metal and concrete and durable as hell."
A Public-Private Venture
DeVellis explained that the recreation center began as a private-public partnership between Edge Sports Group; which constructed, manages and owns BSI; and the town of Wellesley, Mass. Wellesley owns the land, and local schools and community sports groups are given priority scheduling when using the facility.
Typically, in projects like BSI, there is a ground-lease agreement for at least 50 years. For that term, the municipality has locked-in fees and set times of usage.
Total project cost of BSI, including site development, building design and construction, was $26.3 million. It took 18 months from construction start to occupancy.  Dacon Corporation in Natick designed and built the facility implementing sustainable principles throughout to minimize environmental impact and optimize operational costs.
DeVellis explained that actual construction of the building took less time than this, but a gas-line explosion in another part of Massachusetts created a delay because the state temporarily halted all gas tie-ins. ESG also experienced delays in installing traffic signalization through the winter season. Without these delays, he said it would have taken about 10 months from ground-breaking to occupancy.
BSI was designed to be useful for all athletes with the design of a wheelchair-accessible pool and deck and a sled-hockey-compatible indoor ice rink.
"Even though making buildings accessible has been required since the Americans with Disabilities Act of 1990, sports facilities have always been the outlier. Hockey rinks, for example, haven't been a model of accessibility," DeVellis said. "We are one of the only New England hockey facilities that has a fully accessible sled-hockey rink where athletes can actually skate off the ice and into the benches," he said. "The benches get removed and there is plexiglass that people can see through. So, it's a great experience for players and spectators. The pools need to have lifts to be accessible according to code, but this is the most accessible facility that we've done–and each one we build gets a little bit better than the last."
Building a Sports Ecosystem
DeVellis uses the term "sports ecosystem" in describing BSI because the venue has sports, leisure and support services, such as tutoring, healthy food services, strength and conditioning and shops that allow users to experience a variety of services. "Often, athletes go somewhere else for physical therapy and injury recovery," he adds. "We believe that we can do more for injury prevention by having sports medicine on site." He adds that having strength and conditioning services housed on site is beneficial in terms of training athletes.
"Injury prevention includes things like concussion awareness, yoga and understanding the value of good nutrition and sleep. There is much more emphasis on injury prevention versus treatment," he said. "So, the sports ecosystem is everything surrounding an athlete."
DeVellis adds: "Everybody, at some point, is either an athlete, loves an athlete or is a spectator so the demand for these types of facilities is high."
Project Details:
Building: Boston Sports Institute
Location: Wellesley, Massachusetts
Size: 130,000 square feet
Metal Structure: Metallic Building Systems (primary and secondary steel framing, roof)
Metal Panel Manufacturer: Metl-Span LLC, (insulated metal building panels)
Trusses: Rigid Frames by Metallic Building Company
Roof: Doublelok 24 Ga. Standing Seam by Metallic Building Company
Fasteners: Metallic Building Company
Doors & Windows: GC
Curbs: LM Curbs
Architecture, Architectural Engineering & General Contracting: Dacon Corporation,  PDA Associates, Inc.
Structural Engineering: DeSimone Consulting Engineers
HVAC Engineering: Environmental Systems, Inc.
Electrical Engineering: Rivers Electrical Corporation
Metal Building Engineering and Construction: BARNES buildings & management group, inc.
Specialty Pool Engineering and Installation: Weston & Sampson, Myrtha Pools
Fire Protection Engineering: Platinum Fire Protection Services LLC
Plumbing Engineering: GCI General Contractors
Acoustical Engineering: Cavanaugh Tocci Associates, Inc.
Refrigeration: Independent Mechanical Contractors, Inc.
Ecological Science: BSC Group
Energy Modeling: Demand Management Institute
November 18th, 2022 | Rural Builder Magazine
Source: https://ruralbuildermagazine.com/metal-building-system-accommodates-different-environments-in-boston-sports-institute/