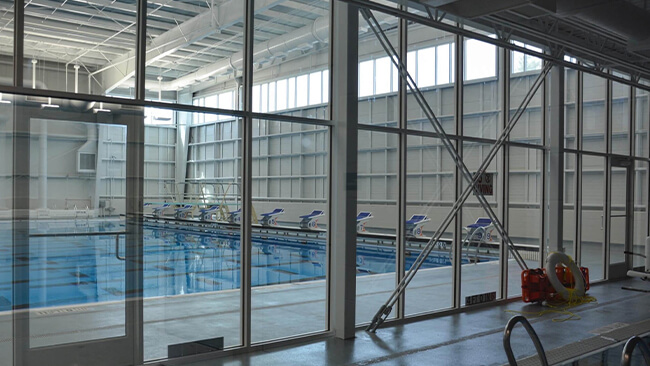 December 10, 2022
Sports and Fitness Fit the Metal Building Model
Sports and fitness are two related lifestyle industries that focus on leisure options for people of all ages, interests and incomes. They represent many diverse options.
SPORTS & FITNESS INCLUDE:
Gyms and physical fitness centers
Yoga studios
Martial arts training
Dance studios
Natatoriums
Sports courts (volleyball, racquetball,
basketball, squash, etc.)
Indoor skydiving
Bowling
Hockey
Soccer
Football
Neighborhood activity centers
Metal building systems accommodate these types of businesses very well for a variety of reasons.
HERE ARE THE TOP 10…
They meet the criteria of most sports and fitness facility developers. Metal buildings provide business developers with a solution that is quick to construct, long-lasting and low-maintenance. That means lower long-term costs, faster construction that brings the building into service more quickly than other building methods, and minimal facility maintenance requirements over the entire life of the structure.
They deliver a versatile, clear span structure. This means there are no required interior columns to impede the reconfiguration of spaces to accommodate changes in sports/fitness equipment, programs, and consumer expectations.
They are durable. Metal buildings stand strong against extreme weather conditions and catastrophic disasters. They are also exceptionally fire-resistant. Metal roofing, one element of a metal building, has been shown to withstand winds of 140 mph. In seismic zones, low-weight flexible frame options offer higher resistance to tectonic forces.
They are engineered to provide an exact fit for a specific developer's program. The building layout is defined, the building components are manufactured, then all materials are delivered to the construction site as a complete package—assuring single-source responsibility and prompt product delivery. The standardization inherent in systems-based buildings makes design, manufacturing, delivery and building erection possible in as little as two-thirds the normal time for conventional structures.
They support process-driven development. A metal building is ideal for sophisticated developers because its design-build model is based on process and critical path, increasing efficiency in both design and construction. Interface with computer-aided design, along with the ability to clad buildings in brick, precast concrete, stone, wood, architectural metal or glass allows great flexibility in design aesthetics.
They offer competitive advantages. Advancements in the fabrication of structural elements provide a faster return on investment for a building owner. Since all elements are factory-fabricated, they are pre-cut and pre-punched under precise factory conditions. As a result, quality is increased while waste is decreased. Building erection time and costs are highly predictable since all parts are manufactured and shipped to the site—typically within six to eight weeks from the time an order is submitted. These short build-out times translate to earlier occupancy and a quicker start of business.
They expand easily. When a developer achieves success in a sports or fitness location, there is logically a need to expand. With metal building systems, that potential is already built into the products. Expansion typically involves the simple removal of an end or side wall, erection of additional structural frames, and matching the existing wall androof coverings to the addition. This flexibility naturally cuts costs and reduces the time and inconvenience typically required to expand or add to an existing structure.
They exhibit respect for the environment. Metal buildings are composed of steel and are 100% recyclable. Nearly every metal building component incorporates recycled steel. An independent study also reveals that, for the types of projects where metal buildings are most economical, they typically perform better in life-cycle analyses and have the least material impact on the environment.
They provide design criteria to stifle noise. Sports and fitness facility developers are typically concerned about noise levels generated by crowds, cheering and team-spirited revelry. With metal buildings, the proper use of thermal insulation helps prevent the transmission of exterior sound, while quieting the noise within a building by absorbing reverberating sound.
They allow for design flexibility. When a developer wants to promote a consistent brand that makes a franchise memorable, they will want to use textures, colors and design elements that represent that overall brand. Metal buildings provide versatility to meet each of the branding objectives through the use of cladding products, alternative coatings, specialized steel elements and unique structural formations.
Architects and constructors who specialize in metal building design-build strategies attest to the value, creativity, reliability and speed of delivery that is found in this form of construction. About half of all one- and two-story commercial buildings in America are created with metal building systems engineering. To speak with an accredited design-build architect or contractor in your area, contact mbma@mbma.com.
CASE STUDIES IN BUILDING EXCELLENCE FOR SPORTS & FITNESS
BOSTON SPORTS INSTITUTE
Boston Sports Institute in Wellesley, Massachuetts, is a four building complex offering nearly 102,000 square feet, which provides space for ice rinks, a pool house and a field house with mezzanines for viewing stands and a running track. Other facility features include locker rooms, a warm pool, offices and mechanical rooms. The design incorporates a multi-span gable, symmetrical building and a multi-span gable, un-symmetrical building with an attached single-slope building.
Unique project challenges were addressed throughout the design and construction process. Each required careful coordination among key constituents: the architect, PDA Inc., the general contractor, Dacon Corporation, and the erector, BARNES buildings & management group inc.
One difficulty was the erection of steel over the pool excavation using a 110-ton crane and aerial equipment inside the pool excavation. The challenge was exacerbated by property constraints that allowed only minimal site access on three sides of the building. Another challenge was the installation of the complex iron package, which included a monumental stairway to the mezzanine level, six sets of steel pan stairs, guardrails at the running track and guardrails with wire mesh at all viewing stands, a ships ladder to the roof hatch, a grated tread stair for the pool mechanical room, an elevator pit ladder, a hoist beam, masonry lintels and a galvanized cooling tower.
For mixed-use sports facilities such as this, it is necessary to design the buildings to address high energy demand, temperature fluctuations and humidity-controlled environments related to ice rinks, natatoriums, turf fields and public areas. Operating costs were addressed and reduced by taking extracted thermal energy to keep the rinks frozen and reclaiming it to heat the pools via loop systems with heat exchangers and circulation pumps. Additional energy efficiencies were achieved by specifying LED lighting, high-efficiency water heaters and an ammonia refrigeration system. The 100,000-square-foot roof area and electrical infrastructure are designed to accommodate a 900kW photovoltaic array to reduce electrical grid demand and carbon emissions.
The high interior relative-humidity levels of the natatoriums (60%) and ice rinks (48%) present an increased risk for condensation across the boundaries of adjacent spaces, adding a level of complexity to interior wall construction. To guard against corrosion, all exposed metal parts are stainless steel with wall and ceiling surfaces finished with epoxy. Thermal insulation, window insulation and vapor barriers help to manage the humidity hurdles. One problem was averted when the design team gave careful consideration to minimizing glare in the competition pool, a potential safety hazard and hindrance to competitive swimming. Anticipating the solar geometry, windows were strategically positioned high on the north side, limiting direct sunlight on the water's surface to only a few hours per year.
With a movable bulkhead, chair lift and drop-in stair, the competition pool can be reconfigured for multiple uses, such as water polo, competitive diving and recreational swimming. Large-view windows emphasize transparency between sports areas, contributing to an awareness of activity throughout the facility and providing spectator viewing.
On the second level, above the soccer/lacrosse turf field, is a two-lane track for jogging and rehabilitative walking.
Critical design features of structure, materials, light and color contributed to project success.