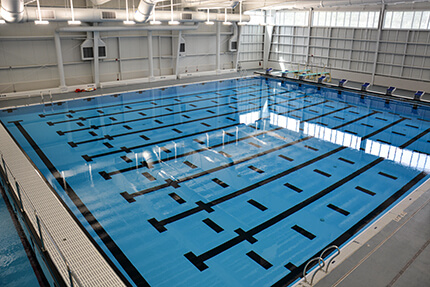 February 20, 2020
What underlies the value of play?  While some speak of the enchantment of winning, today's social and economic motivators indelibly integrate teamwork, achievement and self-discipline with business profitability. Propelled by technology, activism and cultural changes, sports has become a powerful entertainer – a content creator and media draw. Enter the sports ecosystem, a mixed-use concept where community and customer-centric value chain creation are new business partners.
Edge Sports Group (ESG), led by Brian DeVellis, foresaw a unique opportunity within the MetroWest landscape in creating the Boston Sports Institute (BSI), a professional grade facility encompassing sports functions and related commercial businesses in a communal environment. Utilizing a public-private partnership model, ESG is a long-term lessee that constructs, manages and owns the 130,000 s/f building, while the town of Wellesley retains land ownership, priority scheduling and dedicated hours. With 102,000 s/f of ground floor area and 28,000 s/f of mezzanine space, DeVellis' holistic vision centralizes sports medicine, tutoring services and quick dining alongside two NHL hockey rinks for skating, sled and ice hockey, a suspended track, an indoor turf field, therapy pool and competitive repurposed pool from the 2012 Olympic trials. The fifth sports facility project for ESG after previous developments in Worcester, Essex, Bedford and Braintree, BSI continues the sports ecosystem business model.
A well-planned design strategy for any building correctly configures interaction, energy use, business growth and long-term interest. For mixed-use sports facilities the difference is in maintaining multiple high energy demand, temperature and humidity-controlled environments spanning rinks, natatoriums, turf fields and public areas. From a design perspective, creating symbiotic environments within extreme temperature conditions appears paradoxical. However at BSI, operating costs were reduced by extracting thermal energy to keep the rinks frozen and reclaiming it to heat the pools via loop systems with heat exchangers and circulation pumps. Additional energy efficiency measures include LED lighting, high efficiency water heaters for domestic use and ice resurfacing, plus a state-of-the-art ammonia refrigeration system. The resulting program reduces Energy Use Intensity (EUI) from baseline 192.1 kBtu/ft2 to 169.2 kBtu/ft2, representing a 12% reduction in natural gas and electricity use. Additionally, the 100,000 s/f roof and electrical infrastructure is prepared for a 900kW photovoltaic array that will contribute to the town of Wellesley's overall environmental goal to reduce electrical grid demand and carbon emissions.
Managing demands from multiple interior environments was a key factor in Dacon's overall design and material selections. The exterior wall assembly was based on a tricolor pattern using Metl-Span panels which provided weather enclosure, insulation, air and vapor barrier in a single product. This approach encompassed the best overall value to fulfill the client's functional and aesthetic requirements. The high interior relative humidity levels of the natatoriums (60%) and ice rinks (48%) presented an increased risk for condensation across the boundaries of adjacent spaces, adding a level of complexity to interior wall construction necessitating thermal insulation, window insulation and vapor barriers. Careful consideration was given to minimizing glare in the competition pool, a potential safety hazard and hinderance to competitive swimming. Anticipating the solar geometry, windows were strategically positioned high on the north side, limiting direct sunlight on the water's surface to a few hours per year. For any pool, chemical management is a necessary component for both the comfort and health of swimmers and spectators. Irritating chloramine gas, a corrosive byproduct of chlorine disinfectant that settles near the water's surface, is removed from swimmers' breathing zones through vents located at the base of team benches running along the pool deck. The gas is then exhausted through vertical ducts that discharge through the roof. To guard against corrosion all exposed metal parts are stainless steel with wall and ceiling surfaces finished with epoxy.
Alongside environmental, financial, health and safety considerations, BSI's design encompasses the full range of human diversity. The practice of sport is a human right, as such thoughtful consideration was given to expand facility functions for maximum use. With a movable bulkhead, chair lift and drop-in stair, the competition pool can be transformed into courses for water polo, competitive diving, youth, recreational and adaptive swim. Large view windows emphasize transparency between sports areas contributing to an awareness of activity throughout the facility and provide parents observational viewing. In addition to traditional locker rooms, a family locker room is available with private, gender neutral changing spaces. On the second level, suspended above the soccer/lacrosse turf field, is a two-lane track for jogging and rehabilitative walking. Elevators and accessible walkways ensure fluid access throughout the facility. This is a true community center that welcomes all ages and abilities.
Financial, perceptive, cultural and aesthetic elements all interplay in sports facility design. Within the sports ecosystem model, alignment of short and long-term goals are vital components to success for the town and lessee. While community facilities are symbolic of cultural values and ideals, they can also be profitable business models when employing a sports ecosystem as the facility framework. Critical design features of structure, materials, light and color contribute to success. Outside of financial prospects, it must not be forgotten that play is an essential community value for physical, cognitive and emotional strength. Walking the line between potential and reality, it enables human beings to develop capabilities, tolerance and inclusion, creating healthier communities.
October 18, 2019 – Construction Design & Engineering
Lauren Nowicki is the director of marketing for Dacon, Natick, Mass.